Noticia en el Diario de Mallorca sobre la exposición "Las aves de Alcúdia" (castellà)
"Alcúdia presenta una exposición itinerante dedicada a las aves propias del municipio"...."

Entrevista al "BAHÍA - THE ALCÚDIA BAY MAGAZINE" (anglès)
"Ecotourism, or nature tourism, moves over 800 billion dollars a year. Within this, ornithological tourism is a special case, both for its antiquity (it has been practised for over a century) and for its importance...."

Entrevista al "Majorca Daily Bulletin"
"Majorca is like a giant aircarft carrier for birds..."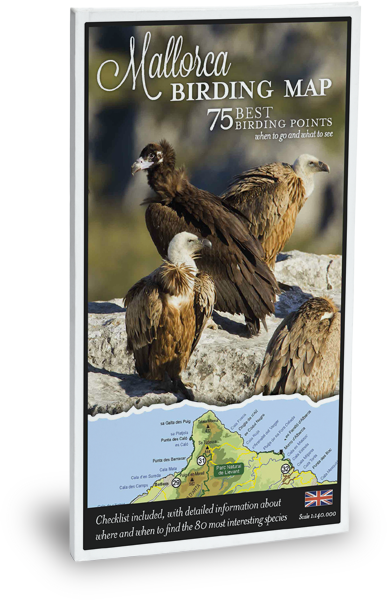 Surt al mercat la publicació "Mallorca Birding Map"
Ressenya de la guia a la revista d'ornitologia del GOB (català)
El 21 de gener es va presentar al local del GOB la Guia de turisme ornitològic de Mallorca, una publicació de caire divulgatiu que pretén omplir el buit que fins ara hi havia a Mallorca sobre el tema. Realitzada per experts locals reconeguts, com són Maties Rebassa, Josep Manchado, Sebastià Torrens i Mª Carmen Oriola, la guia presenta una informació molt completa sobre diferents zones i recorreguts ...

Notícia a la web del Diario de Mallorca sobre la publicació de la guia (castellà)
La primera Guia de Turisme Ornitològic de Mallorca. "La principal eina per a l'observació –comenta Maties Rebassa– és la il·lusió. Veure aus és molt senzill, n'hi ha prou amb sortir al camp amb una guia d'identificació i uns prismàtics". ...

IB3-Radio Balears fa una entrevista als autors de la guia al programa "Balears fa ciència"

Entrevista que va publicar el "Majorca Daily Bulletin" (anglés)
Between 25,000 and 30,000 birdwatchers from all over Europe, but in particular Britain, come to Majorca every year and five local ornithological experts have recently published the ultimate guide for bird watchers in English. The "Birding Tourist's Guide Majorca" is a private initiative ...

El prestigiós escriptor Ron Toft parla sobre el llibre a The Travel Editor.com (anglès)

Reportatge a la revista "Mallorca Zeitung" (alemany)
Was fl iegt denn da? Rund 340 Vogelarten leben auf Mallorca oder sind als Zugvögel auf der Insel zu Gast. Ein neu erschienener Vogelführer erleichtert ihre Beobachtung und empfi ehlt insgesamt 17 Aussichtspunkte ...
Reportatge a la revista "Mallorca Magazin" (alemany)
Maties Rebassa ist nicht nur Direktor des Naturparks Albufera, sondern auch Biologe und begeisterter Vogelkundler. Dass er die Materie beherrscht, belegt der Ornithologen- Führer, den er nun herausgebracht hat, gemeinsam mit Josep Manchado, Fotograf Sebastià Torrens und Maria Carmen Oriola. ...

La web Subbuteo Natural History Books anomena el llibre "Book of the month" ("llibre del mes")
by Maties Rebassa, photography Sebastia Torrens, illustrated by Josep Manchado and MCarmen Oriola. This title provides details of 17 sites and 26 itineraries and includes notes on 240 species with details of notable endemics. There are also species list and status and list of birds on the Majorcan rarities. Colour photographs, maps, 128pp. 2nd edition 2013 ...

Ressenya de la Guia de Turisme Ornitológic a La Almudaina "Diario de mallorca"
La Guia de turismo ornitològic de Mallorca, realizada por expertos locales, llena el vacío que existía sobre la afición. Esta actividad es especialmente solicitada por profesionales internacionales, ...

Fins i tot a Austràlia es pot comprar la guia!!

També Els amics d'SlowFood Ottawa Gatineu ens recomanen des de la seva web a Canadà